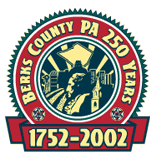 Reading, Pennsylvania
Reading , the seat of Berks County, is a city in southeastern Pennsylvania 80 km (50 mi) northwest of Philadelphia. The population of Reading was 78,380 in 1990. Reading has railroad shops and diversified manufacturing and commercial industries. Manufactures include electronic parts, clothing, machinery, hardware, structural steel and iron, chemicals, optical goods, and motor vehicles. The site was purchased from the Leni-Lenape people by William Penn, the founder of Pennsylvania, and was laid out (1748) by Penn's sons Thomas and Richard. In the late 18th century it was a prosperous iron and steel town. It grew with the construction (1820s) of canals on the Schuylkill and Susquehanna rivers and the arrival (1838) of the Philadelphia and Reading Railroad. Reading was incorporated in 1847. [return to top]
---
Reading Company
The Reading company began as the Philadelphia & Reading Railroad, chartered in 1883 and opened from Philadelphia though Reading, to Pottsville, PA., in 1842. An Affiliated company, the Philadelphia & Reading coal & Iron Co., began to buy much of the anthracite land in the area. In a reorganization of the Reading company, a holding company, acquired the railroad and the coal and iron company, and in 1901 got control of the Central Railroad of New Jersey.
The Central Railroad of New Jersey had opened in 1852 between Elizabeth and Phillipsburg, NJ. In 1864 the line was extended a few miles east to Jersey City, and in 1871 the railroad extended in to Pennsylvania by leasing the Lehigh & Susquehanna RR. In 1946 CNJs lines in PA were reorganized as the Central Railroad of Pennsylvania in an attempt to avoid taxation by New Jersey. Separate operation of CRP ended in 1952. In 1964 the CNJ purchased about 40 miles of the defunct Lehigh & New England. CNJ came under control of the Reading Company in 1901, at about the same time the Reading Company came under the control of the Baltimore & Ohio. The three railroads formed a Jersey City-Philadelphia-Washington passenger route to compete with the Pennsylvania.
In 1923, the Reading Company merged a large number of wholly owned subsidiaries and became an operating company. Readings passenger business was almost all suburban and its freight business was also largely short haul. The Reading Company had a considerable amount of anthracite traffic, and its route west from Allentown through Reading and Harrisburg carried much of the freight that bypassed Philadelphia, Baltimore, and Washington.
Conrail was formed on April 1, 1976 by the US Government to take over the ownership and operation of six bankrupt eastern roads. These included The Central Railroad of New Jersey, Eire-Lackawanna, Lehigh & Hudson River, Lehigh Valley, Penn Central, and Reading. It also took over the Pennsylvania-Reading Seashore lines which was not bankrupt, but not doing so well. It started with a $2.1 billion from the US Government. It trimmed its excess plant and started an extensive program to improve what was left. By 1981 Conrail posted a profit and kept doing better. Conrail owned 2,100 locomotives and 74,277 freight cars.
In 1983, Conrail transferred commuter lines it operated to state and local transit authorities. These became MBTA (Metropolitan Boston), Metro-North (Hudson Valley of NY and CN), New Jersey Transit, SEPTA (Philadelphia) and MARC (Maryland).
With Conrail's success, two eastern rail competitors of Conrail engaged in a takeover battle to control the railroad and expand their systems. In 1997, however, the two railroads, CSX Transportation and the Norfolk Southern Railway, struck a compromise agreement to jointly acquire Conrail and split most of its assets between them. Norfolk Southern acquired 58 percent of Conrail's assets, including roughly six thousand Conrail route miles, and CSX received 42 percent of Conrail's assets, including about 3,600 route miles.
---
A Look Back At 1900's Stormy Side
As we write finis to the century that was the 1900s, here is a look at the Top 10 weather events of the past 100 years in Berks County.

What follows is a compilation based on input from a weather professional, readers and personal selections. Some you will remember, others you won't, but all had an impact worth recalling.

1. Tropical Storm Agnes: No contest on this leading the agenda of weather history which rewrote local meteorological records. Rains from Agnes in June 1972 spawned the greatest flooding the city and county had ever seen. The Schuylkill River crested at a record 31.5 feet.

Left in its wake was death, $52 million in damage, untold misery, disrupted business, and altered lives that persisted for months after the waters receded. Agnes also set a single-day rainfall record of 8.49 inches June 23 and helped to make that June the wettest month ever at 15.73 inches.

2. Blizzard of January 1996: If Agnes submerged us, the 34-inch snowstorm of Jan. 6-7 buried us and literally froze us in place. It not only was the heaviest snowfall ever, by 10 inches, it was the catalyst for the snowiest January on record, snowiest winter (85 inches) and, eventually, the second-wettest year on record. What turned out to be the real winter storm of the century caused traffic to be banned on roads, schools to close for a week, and business and transportation to wheeze to a standstill.

3. Winter of 1993-94 The ice-man cometh might be the best way to characterize this winter of our discontent. Snowfall, which eventually would total a then-record 68 inches, was intermingled with ice storms that created a frozen-tundra that truly was les miserables. Added to that mix were below-zero temperatures that bottomed out at a coldest-ever 21 below Jan. 21, lowering by? degrees a record which had stood since Jan. 14, 1912. That was less than a week after two earthquakes rattled Berks.

4. Hurricane Hazel: She roared through Berks County Oct. 15, 1954 with 60 mph sustained winds and gusts to 86 mph. Hazel caused millions of dollars in damage, 13 injuries and power outages that lasted for up to a week after she departed.

5. Blizzard of March 1958: The worst of two late-winter snowstorms, this one on March 20 produced an official measurement of 21.5 inches, but totals in many areas of Berks were in the 30-to-40 inch range and Morgan-town registered 52 inches.

6. Dust storms of 1935: During the period of March 18-27 of that year dust storms from the Great Plains carried yellow-colored pumice with an alkaline taste over the county. It covered roofs and cars with a light, yellow layer and caused minor throat irritations for many.

7. Lyons tornado of 1998: An F3 tornado swept across north-central Berks from Centerport to Bowers late on May 31, causing major damage to much of the borough of Lyons.

8. Christmas snow of 1909 Early century Berks Countians are tested by a snowfall of 20.3 inches, still the whitest Christmas in the record books.

9. Blizzard of February 1983:
A 24-inch snowfall erases by an inch the standard set by the in-famous Blizzard of 1888. Four persons died of heart attacks trying to shovel out of snow measured to 3 feet in outlying areas.

10. Heat wave of 1901: A sweltering, 13-day period from June 25 to July 7 when temperatures sizzled to 90-degree-plus levels, with a high of 101. Officially, it remains the longest local heat wave.

Honorable mention: Hurricanes Connie and Diane, August, 1955; Appalachian storm dumps 6-inch, 24-hour rainfall, November, 1950; 25- and 50-pound ice chunks fall from the sky near Bernville, July 1957.

Finally, a happy holiday season to all and may you find 2000 and beyond filled with the fair-weather clouds of health and happiness.

Frank Mazurkiewicz is an Eagle/ Times wire editor. To comment on this column or offer suggestions, call Eagle Link at 376-6000, category code 3010, or send e-mail to
---
Top Spots in Berks County
Charles J. Adams III, free-lance writer and travel columnist for the Reading Times and Reading Eagle, studied contour lines on a topographical map of Berks County for high points in the county.
"The seven townships that sprawl along the Blue Mountain ridge supply the highest elevations of all townships in Berks," Adams said. "In the Rocky Mountains, a 14,000-foot peak is considered to be a climber's challenger. In the Blues, 1,400 feet is sky high."
A spot in Bethel Township tops the county at more than 1,680 feet. Noted Albany Township peak, the Pinnacle, is above 1,620 feet.
Here is Adams' list of other Berks County high spots:
* Upper Bern Township the ridge in this township tops off at 1,540 feet.
* Albany Township Spitzenberg, a 1,060-foot hilly landmark; and a 1,519-foot section of Hawk Mountain known as Hemlock Heights.
* Windsor Township a ridge south of Hawk Mountain ascends to 1,480 feet.
* Tilden Township a 1,420-foot rise along the Appalachian Trail near the Auburn Reservoir.
* Greenwich Township a slope leading to Pulpit Rock reaches 1,400 feet.

South of the Blue Mountains, Adams pinpointed these high spots in the county:
* Heidelberg Township South Mountain, 1,260 feet.
* Longswamp Township Topton Mountain, 1,240 feet.
* South Heidelberg Township South Mountain, 1,220 feet.
* Alsace Township Mount Penn, 1,120 feet.
* Rockland Township near Fredericksville, 1,120 feet.
Other high identified hills in county townships are:
* Earl Township Fancy Hill, 1,080 feet.
* Muhlenberg Township Irish Hill, 1,040 feet.
* Union Township Chestnut Hill, 1,002 feet.
* Exeter Township Schwarzwald Hill, 960 feet.
* Penn Township Scull Hill, 928 feet.
* Amity township Monocacy Hill, 860 feet.
Unmarked high points in other townships that may have local names, but are not shown on the topographical map include:
* Spring Township 1,060 feet.
* Hereford Township 1,060 feet.
* Brecknock Township 1,044 feet.
* Washington Township 1,040 feet.
* Pike and Ruscombmanor townships both 1,020 feet.
As for Reading, the city's portion of Mount Penn hits a height of 980 feet just north of the Pagoda.
---
Reading and Vicinity Links
---
Directory to Contents of Henning's Websites
I am webmaster for the following websites:
My interests include the following:
My Photo Albums
My Favorite Links
---
Compatibility & Webmaster information:
These pages were created in Adobe GoLive, Adobe DreamWeaver, and BBEdit by . They have been successfully tested on computers, ipads, ipods, & iphones and with various browsers including Chrome, Firefox, Internet Explorer, Netscape, OmniWeb, Opera, & Safari. They have also passed the internet standards of the W3C validator tests. They are now translated into over 60 other languages by
Google
. Please report any problems to . [Articles in Kutztown Patriot about
American Rhododendron Society Award
and
International Fellowship of Scouting Rotarians Award
.]